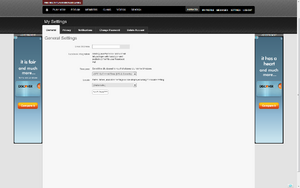 The SETTINGS is the fourth tab to the right on the NPlay Home Page while logged in.
The My Settings (SETTINGS tab) displays the player's account settings. There are five tabs within the My Settings page: General, Privacy, Notifications, Change Password, and Delete Account.
In the My Settings page is the sub-page of the current tab. Clicking on either of the five tabs will change the page. The default tab is General.
Pages in category "Settings"
The following 5 pages are in this category, out of 5 total.
Ad blocker interference detected!
Wikia is a free-to-use site that makes money from advertising. We have a modified experience for viewers using ad blockers

Wikia is not accessible if you've made further modifications. Remove the custom ad blocker rule(s) and the page will load as expected.