Health (commonly known as HP or hit points) is a numerical measurement for calculating the amount of life a player has left. If a player has 0 health, the player dies. Health is displayed in the bottom left corner of the screen, to the right of a heart with a plus sign by it. All players start with 100 health and is the maximum amount of hit points a player can have. Health is reduced if a player takes damage and the player dies when it reaches 0 hp.
Altering the amount
Edit
Losing health
Edit
There are 4 ways to lose hit points.
Low health effects
Edit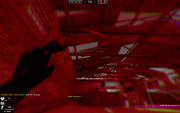 When the player reaches 25 hit points the screen turns Black and white. The small health-bar on the scorebar will also turn red if a player is under 25 hp.

At 24 hit points the player's heart starts beating more rapidly and continues to increase in frequency and noise the closer a player's hitpoints are to 0. This heartbeat can be heard by other players nearby and is louder at lower health levels.
A player can be killed by a single shot (M110 with Explosive Ammo).
The Knife always inflicts 33 damage.
The most self-damage a player can inflict from jumping is 9. This can be done from jumping off of a crate on the rooftops to the ground in Timbertown.