Home
Talk

0
148pages on
this wiki
Welcome to the BeGone Wiki! We're currently still working towards filling out all the pages and frankly, it's a lot of work, but we are getting there.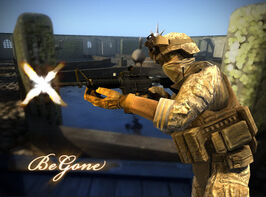 So if you're available to help out, we would really appreciate it!
The latest version of BeGone is v1.8.3.3. For more information about Achievements, check this page.

If you would like to know any information about Begone Classic, check this page.
Main Categories
Edit

This wiki provides the following information:
​

​

Achievements

 - The list of achievements you can obtain in a round!

Bugs

 - Going to report a bug, or want to know what to watch out for? The Bugs section describes all the bugs the developers know about already.
Helping us out
Edit
There are always unfinished pages in which you can help us complete! If that doesn't suit you, then you can try creating a new one.
Our goals
Edit
Current Goal
Edit
The current goal for the wiki is to reach 150 pages. We currently have 148 pages.
We're especially looking for things like 

Techniques

 and 

Tactics

. Techniques and Tactics can be learned by new players to directly improve their skill, which will attract a great amount of users.

Not only do we need pages, but we also need content. Every page in game information should be big enough for a content box.

The greater goal is for this wiki to become a solid, community owned reference guide to BeGone. Is someone wondering how much damage a certain weapon does? Link them to the Begone Wiki! Is someone wondering about how Sabotage works? Link them to BeGone Wiki!

Don't feel overwhelmed by all this! BeGone has a large player base, and if we all help out a little bit, we can make this work.
Reached Goals
Edit
Our first primary goal as a wiki was to reach 50 pages, which has been accomplished.

Our next primary goal was to reach 75 pages, which has also been accomplished.
​
Please avoid making clan pages. All BeGone Wiki pages that pertain or has relation to clan pages of any extent will be deleted.
Important notice
Edit
The BeGone community, its forums,clans,etc., has been removed permanently from the website for reasons unknown.
Important Information
Edit
Website: http://www.nplay.com/ (account system has been suspended)
Other BeGone versions
Edit
BeGone Guerra: http://www.nplay.com/BeGone/NPlay/Guerra
Other games from NPlay.com
Edit
Invincicar Online: http://www.nplay.com/InvinciCar_Online/