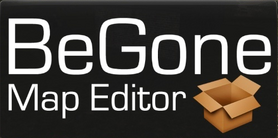 Map Editor is an upcoming tool for players in BeGone. With this tool, players can create their own maps. When Dmage, one of NPlay's main developers was asked when the Map Editor in the BeGone forums will be released he stated this: " Map editor will be available for everyone to use, but only players with Premium accounts (owners of custom servers) will be able to upload their map for other people to play." but just to clear thins up, the Map Editor is free to use. . He also stated that the premium accounts would have a monthly fee of US$10. 
The initial scene of the map editor is basically an empty scene, as seen in the picture on the right. This is where the user will be started off when begining the editor or creating a new map.
Ad blocker interference detected!
Wikia is a free-to-use site that makes money from advertising. We have a modified experience for viewers using ad blockers

Wikia is not accessible if you've made further modifications. Remove the custom ad blocker rule(s) and the page will load as expected.