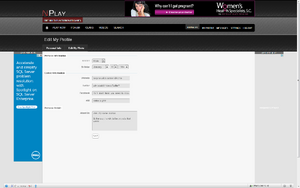 Personal Info is the first tab within the Edit My Profile link. This tab is located to the left of the Edit My Photo tab.
Players may edit their Personal Info which is shown on the Info page within the player's My Profile page.
There are three categories within the Personal Info page. They are:  Personal Information, Contact Information, and Personal Details.
Personal InformationEdit
Gender:  The player's gender.
Birthday:  The player's date of birth.
Contact InformationEdit
Website:  The player's website.
Twitter:  The player's Twitter account.
Facebook:  The player's facebook account.
AIM:  The player's AIM account.
Personal DetailsEdit
About Me:  Details that the player wishes to share with viewers.
The player is not obligated to share their info to other people on NPlay. Some may choose to share all, partial, or no info about themselves.
Ad blocker interference detected!
Wikia is a free-to-use site that makes money from advertising. We have a modified experience for viewers using ad blockers

Wikia is not accessible if you've made further modifications. Remove the custom ad blocker rule(s) and the page will load as expected.