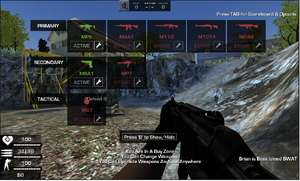 The Store is an interface where players can buy weapons and attachments with Cash. To access the Store, press the "B" key (or the key selected in the Controls Tab). There are currently five (5) primary weapons, two (2) secondary weapons, and one (1) tactical weapon.
Attachments
Edit
Attachments are divided into four (4) subgroups: Optics, Tactical, Mods, and Ammo.
Incompleted section
This section is incompleted. You can help by expanding it.
| Version | Date | Change |
| --- | --- | --- |
| 1.7.1 | July 12, 2012 | New shop interface |
Ad blocker interference detected!
Wikia is a free-to-use site that makes money from advertising. We have a modified experience for viewers using ad blockers

Wikia is not accessible if you've made further modifications. Remove the custom ad blocker rule(s) and the page will load as expected.