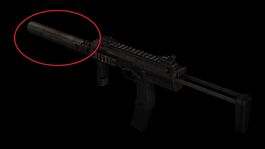 The Suppressor is a tactical attachment for all firearms.
General Information
Edit
The Suppressor eliminates bullet traces and muzzle flash, and decreases muzzle noise when firing. In addition, the suppressor decreases recoil of zoomed and non-zoomed shots, but also decreases damage to all body parts.
MP5, M1014, M110, M4A1, M249 SAW
Value
Cost
$1100
Recoil
-1.0
Recoil Zoomed
-0.5
Damage - Head
-4.0
Damage - Body
-4.0
Damage - Limb
-4.0
MP7
Cost
$1000
Recoil
-0.5
Recoil Zoomed
-0.25
Damage - Head
-2.0
Damage - Body
-2.0
Damage - Limb
-2.0
M9A1
Cost
$600
Recoil
-0.5
Recoil Zoomed
-0.25
Damage - Head
-3.0
Damage - Body
-3.0
Damage - Limb
-3.0
Noticeable Features
Edit
Players hit by firearms with the suppressor attachment will not know what direction the bullets are coming from. Also, Players will not be able to hear the gunfire unless they are in close range of the shooter.

The suppressor, like all 

Tactical

 

attachments, is seen by the player.

The suppressor is visible to teammates and opponents.

The suppressor stats are the same for all Primary Weapons.
Tips and Tricks
Edit
The suppressor is not recommended to be used with the M1014, as it reduces the damage of all of the 14 pellets.
Ad blocker interference detected!
Wikia is a free-to-use site that makes money from advertising. We have a modified experience for viewers using ad blockers

Wikia is not accessible if you've made further modifications. Remove the custom ad blocker rule(s) and the page will load as expected.