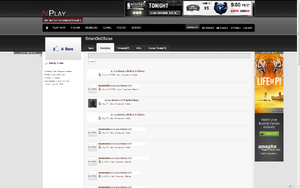 The Updates (My Profile) tab is the second tab in the My Profile page.
Much like the Updates tab, the Updates in My Profile shows updates but doesn't display everything that the Updates tab does.
The Updates (My Profile) displays what the player has done and not what friends or other players have done (liking their comments, posting on their forum topic, etc.).
Ad blocker interference detected!
Wikia is a free-to-use site that makes money from advertising. We have a modified experience for viewers using ad blockers

Wikia is not accessible if you've made further modifications. Remove the custom ad blocker rule(s) and the page will load as expected.