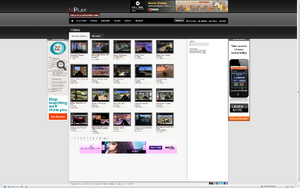 VIDEOS 
tab is the sixth tab to the left on the
NPlay Home Page
. URL:  
http://www.nplay.com/videos
.
The Videos page (VIDEOS tab) displays the Videos uploaded onto the NPlay website. The Videos page also displays the Black Tab Bar above the game.
To the LeftEdit
There are two tabs on the left side:  Browse Videos and My Videos.
Browse Videos:  This tab shows all videos that are uploaded to the NPlay website.

My Videos:  This tab shows all videos that are uploaded by the player.

At the bottom of the page is a horizontal listing of the number of pages with corresponding links and a link "Next" to move to the next page in the search. The link "Previous" will appear before the lowest page number when on any page besides the first.
To the RightEdit
On the Right side there is a search criteria box that allows players to narrow their search to specific videos. The search criteria are:
Search:  Search videos by name or by user.

Browse By:  Search videos by: Most Recent (shows the latest uploaded videos first), Most Viewed (shows the most viewed videos first), and Highest Rated (shows the highest rated videos first).
Ad blocker interference detected!
Wikia is a free-to-use site that makes money from advertising. We have a modified experience for viewers using ad blockers

Wikia is not accessible if you've made further modifications. Remove the custom ad blocker rule(s) and the page will load as expected.